More comments from the MNB community about the proposed Kroger-Albertsons deal…
One MNB reader wrote:
One key learning after going through this process that I feel is evident to both Kroger and Albertsons management is the follow up to divestiture. Recall the Haggen's debacle, where Albertsons sold some 88 stores to Haggen, (who failed miserably in their new markets) only to buy them back for pennies on the dollar when the FTC dust had settled. That's also a real possibility in this scenario as well.
And from another reader:
I agree with you that everyone will profit from this, but maybe not the consumer. At least in my markets, the Albertsons-Safeway divisions have the highest retails of any competitor in their markets. Kroger, middle of the road. So, competition will continue post-merger.
The challenge will come on the manufacturing side with the increased cost pressures placed on them from the new mega retailer. Unfortunately for consumers, I don't think this will trickle down to the shelf tags. It hasn't yet. A/S is a prime example.
And one more MNB reader chimed in:
I worked through:
Pathmark / Ahold.
Rite Aid / Walgreens.
Rite Aid / Albertsons.
IMHO, Stick a fork in it.
I wrote the other day about how I think companies like WinCo, Aldi and Dollar General are likely to take advantage of the current economic situation to build their own market shares, prompting one MNB reader to write:
Don't share your optimism on Hard Discount potential in USA, as the format has struggled to exceed 2 percent market share.
Aldi has been in USA 46 years, not a game changer, and Lidl's USA launch after 5 years viewed as a disaster, now appears closing as many stores as opening.
USA consumers frequently buy their favorite brands on sale at a price better than private label . Every full service USA supermarket is stacked with private label, so why make an extra stop at a place like Aldi or Lidl?
There is a big pond separating USA retail dynamics and UK.
From another reader:
I agree with you to a degree. Aldi, WinCo, and Dollar General are positioned well since they have been entrenched in the US market for a long time and will definitely benefit from a recession. However, Lidl? Not so much. They may gain some share but are still trying to figure out their consumer and item mix. Unfortunately for them, I see them going to own brand items as their direction for market gains and not store growth.
To me there are two issues with this approach. 1. They are not big enough to command "best cost /best ingredients" for their products. Unless it is being produced in the EU, but the offset with the dollar and transportation across the pond negates any savings there. 2. Locations. Where are they going to grow? If it is ground up growth, where?
I believe the competition is way ahead of them on the good sites. Purchase existing locations? Not really. If they are buying existing locations, generally these are being sold due to slow performance, and they simply cannot purchase enough to compete on the national retail stage. I think they have a long, long way to go.
And finally…I used a picture of a coin-filled urn on my desk in a story the other day about the national coin shortage: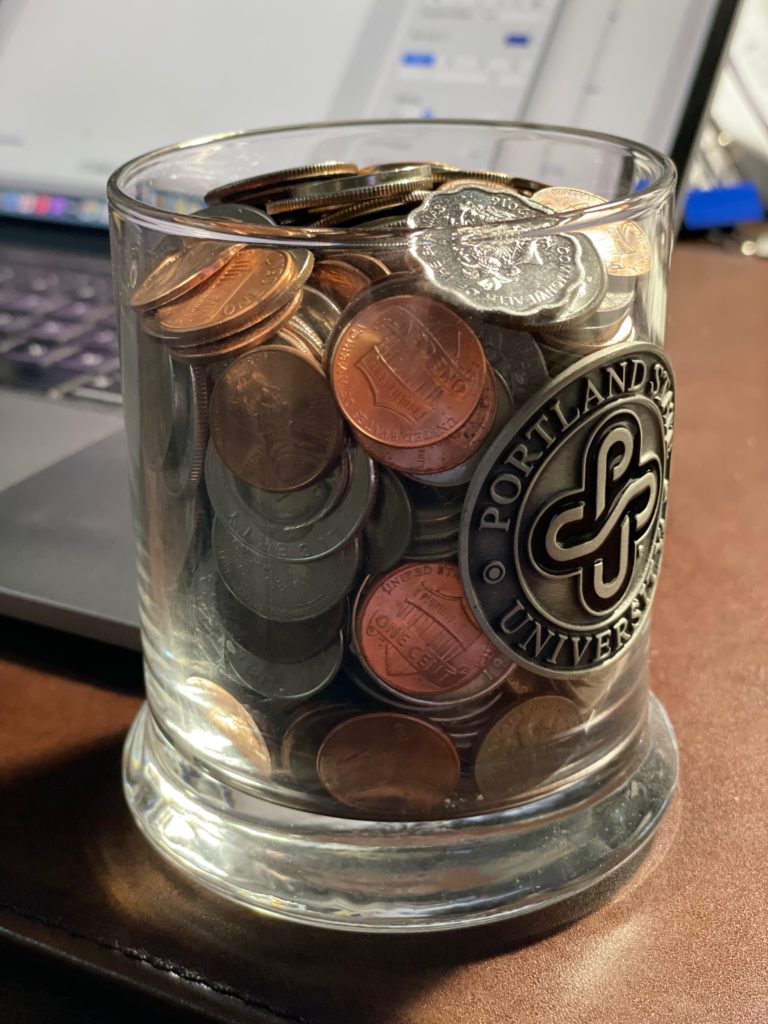 One MNB reader asked:
What's that odd shaped coin at the top of the jar?
Geez … I hadn't even noticed.
I checked. It was a Bahamian dime.
Good eyes.