Got the following email from an MNB reader responding to Michael Sansolo's column last week about classical music groups playing a popular repertoire as a way of expanding Appeal:
Last Saturday evening my wife, a friend and I went to a candlelight concert in Chicago at a nearby Episcopal church - Taylor Swift songs played by string quartet. Two shows that evening, each about 75 minutes. Packed house for each and audience was much younger than church membership and 90% women.
Fun evening and we are looking for other shows they will be putting on in Chicago area.
If you want to grow your customer base, that's how you do it.
Reacting to my piece last week about the suburban Amazon Go format in Whittier, California, MNB reader Monte Stowell wrote:
You have to face the facts. Amazon is not a grocery company that is going to revolutionize how people shop. In my book, it is a smaller version of a 7-11, etc., except the 7-11 has a lot more SKUs versus what Amazon has to offer. Just because the store in the article is an Amazon, frankly, who cares. It is just another format that does not offer anything that gives the consumer a Wow factor. A work in progress?
As I think I said last week, this format strikes me as a store that has not quite figured out what it is yet … but I think it would be a mistake to assume that Amazon cannot or will not figure it out and become a real force in grocery shopping.
Plus, you miss the "wow factor" that this store offers - frictionless, checkout-free shopping. To me, this is the essence of the revolution.
Another MNB reader wrote:
Based on your pictures and description, along with one visit to an Amazon Go store with the urban format, I'm still seeing Amazon with an answer. The challenge is finding the problem for it to solve.
Now certainly eliminating the friction point of checkout is going to be the value proposition. I get that point. But what I'm seeing in your pictures as well as my experience is that Amazon Go is not a place where I'm interesting in doing a significant amount of my shopping. If one were by me it would be a convenience; like going to a C-store. The challenge there is that convenience stores typically are a fast experience at the checkout (and if that is not the case I'm not going back because that *is* the convenience).
Until Amazon finds the formula where I'm looking to do a higher percentage of my weekly basket there, I don't see it getting over the hump. Will they keep plugging away until they do? I have to say the answer is yes. But as you noted, there is still more discovery on their end.
I also got this nice note from an MNB reader about my travels last week:
If you only attended conferences/workshops but continued visiting area stores, you've got a great format for all of us to keep informed. I appreciate it.
My pleasure. And more to come this week.
Just FYI … speaking at conferences and visiting stores to share them with MNB readers is among the greatest pleasures of my job.
And finally, I posted this picture last week and asked MNB readers to guess where I was: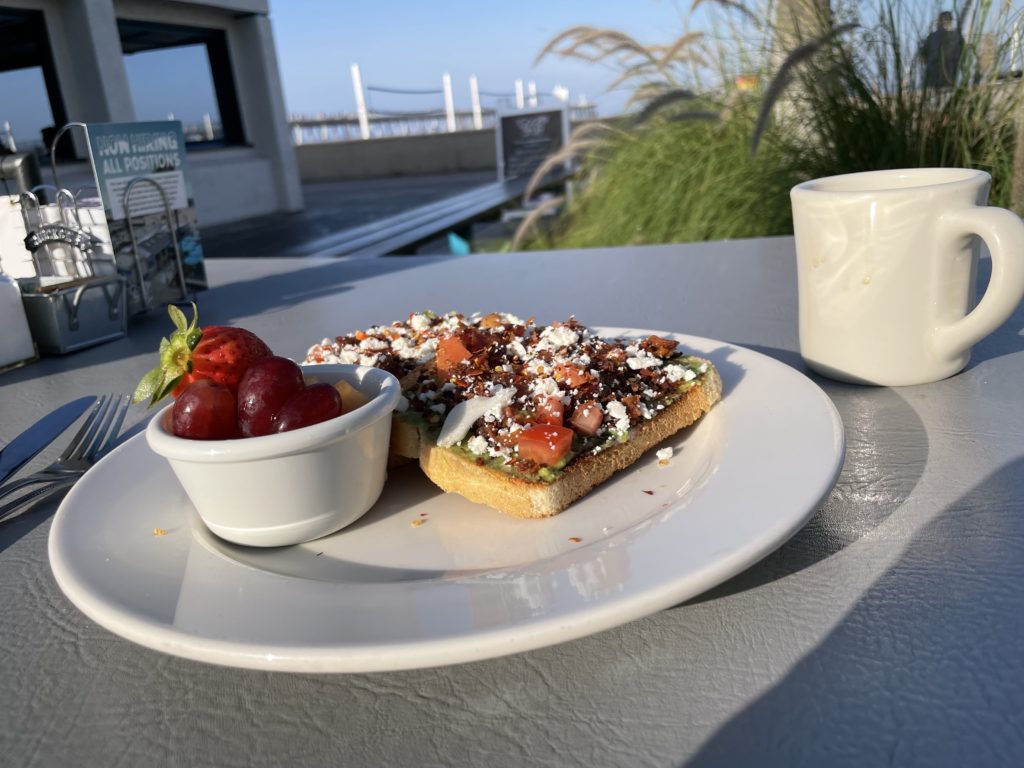 Extra credit to the readers who got it right - I was at Good Stuff in hermosa Beach, California, enjoying a delicious breakfast of avocado toast (served with chopped tomatoes, feta cheese and crushed red pepper) and coffee …