Last week we took note of a Wall Street Journal piece about how, in his virtual address to the US Congress, Ukrainian President Volodymyr Zelensky called for elected officials to put pressure on companies in their states and districts still doing business in and with Russia, and called out some specific companies, including Nestlé SA, Mondelez International Inc. and Unilever PLC, among "other giants of the food industry."
Got the following email from an MNB reader responding to the story, calling out another US company:
KC, I am a daily reader, have been from the start and have the tee shirt to prove it.
Your independent comments on Multinational companies still operating in Russia were "spot on".
I am a former P & G employee and distraught that P & G is still operating in Russia.
P & G always talks about a Force for Good, serving others.
Today, it feels like a bunch of hogwash! I thought they (Mars,Mondelez, too) were much better than this.
Russia is a top market for P & G, and it appears that they are putting "profits before principles."
As you said, prescription medicines are essential, but there are many Russian companies that will supply detergent, diapers, and razors if P & G exits.
Meanwhile, today Ukrainians are leaving strollers in their central square to remember all the Ukrainian children who died who will never be able to wear Pampers again.
Got this email from MNB reader Frank Klisanich about my Feargal Quinn piece last week:
I always enjoy your articles that include the wisdom of Feargal...he wanted to know what was important o his valued shoppers...he wanted to know what the front line staff felt...he cared about both and everyone had to focus on the insurer experience. Simply brilliant.
Marketers and Sellers need to understand, watch and engage with those consumers and truly partner with Retailers to deliver the right products at the right price at the right time.
I wish I had met Feargal, but, your articles are a great alternative.
There also was a story in the Lakeland Ledger speculating about whether Publix Super Markets could see its longtime dominance in the state challenged by online offerings by the likes of Amazon, prompting MNB reader Andy Casey to write:
Publix is always my first choice for in-store shopping but when the pandemic pushed some of my shopping online, I just never got into the Instacart habit. I wasn't too impressed with Amazon Fresh and with the ease of Walmart pickup and now Kroger delivery in Florida, investing the time to get comfortable with another platform just doesn't seem worth the effort. That would likely change if Publix put together their own offering.
By the way, rumor is there is an Amazon store soon to open in a former Winn-Dixie site in Safety Harbor (Tampa area) so they are definitely coming.
There was another story last week, this one in USA Today about how Walgreens "has recently rolled out digital screens replacing the traditional doors available in these sections, and some consumers are upset. The high-tech doors were created in partnership with startup Cooler Screens, a company building technology where 'consumers experience in-store what they love about shopping on-line'."
However, not everybody loves them. One MNB reader writes:
It would be interesting if these cooler door screens could tell shoppers when o.o.s. product would be back in stock, or suggest what the closest substitute might be. Or for items in stock a new recipe to go along with it... you know, stuff that might help the customer…
Be nice.
We wrote on Friday:
A few weeks ago we reported here on Chicory's third annual Online Grocery Usership survey, but yesterday an MNB reader emailed me a chart from the survey that she said seemed particularly resonant in view of comments that I've made here over the years. I missed this chart in my original reporting, so I thought I'd share it with you.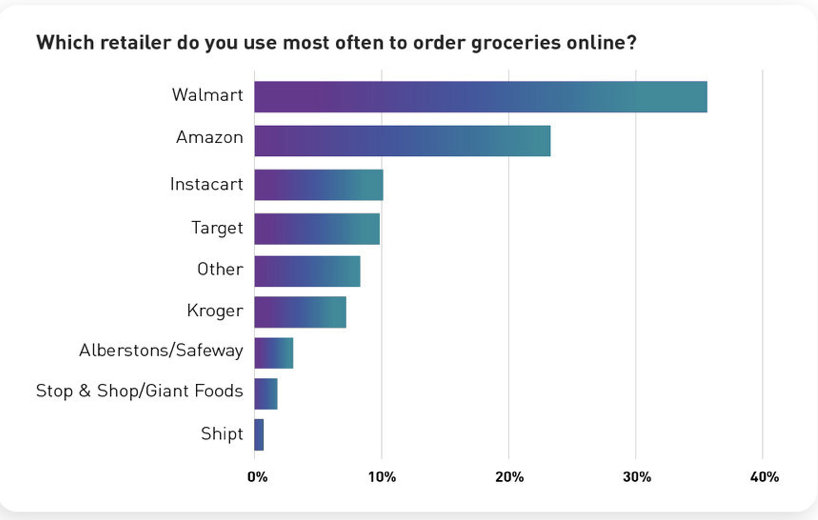 My argument was that this is a vivid illustration of the degree to which Instacart is disintermediating its client retailers. But one MNB reader noticed something else:
interesting chart to share but how much credit do you put into a chart that can't spell one of the largest players in the grocery market by store count correctly?
One of the largest problems with today's society is a lack of attention to small details and laziness. Here's another example of that.
I take your point … but as someone who has had more than his share of misspellings over the past 20+ years, I tend to be forgiving.
Plus, if I am going to be honest, I didn't even notice that Albertsons was misspelled.
My bad.