With brief, occasional, italicized and sometimes gratuitous commentary…
• Kroger said yesterday that it will build a new Ocado-powered, 200,000 square foot customer fulfillment center (CFC) in Concord, North Carolina, just a little northeast of Charlotte. The facility is expected to be open in two years.
Kroger currently operates CFCs in Groveland, FL and Monroe, OH and is slated to open sites in California, Dallas, TX, Forest Park, GA (Atlanta), Frederick, MD, Phoenix, AZ, Pleasant Prairie, WI, Romulus, MI (Detroit), as well as South Florida and the Northeast, Pacific Northwest, and West.
• Boxed Inc. said yesterday that it "has completed its business combination with a special purpose acquisition company and said its was further integrating with Google Cloud," Marketwatch reports.
"The e-commerce grocery platform, which sells bulk consumables and licenses its e-commerce software to enterprise retailers, said Wednesday it completed its combination with Seven Oaks Acquisition Corp.
The company said Thursday it will further integrate with Google Cloud. As part of the updated licensing agreement, Boxed will be able to make use of Google Cloud's advanced cloud computing, data analytics, and artificial intelligence technologies."
Boxed also let its customers know yesterday that it had gone public, with the following email: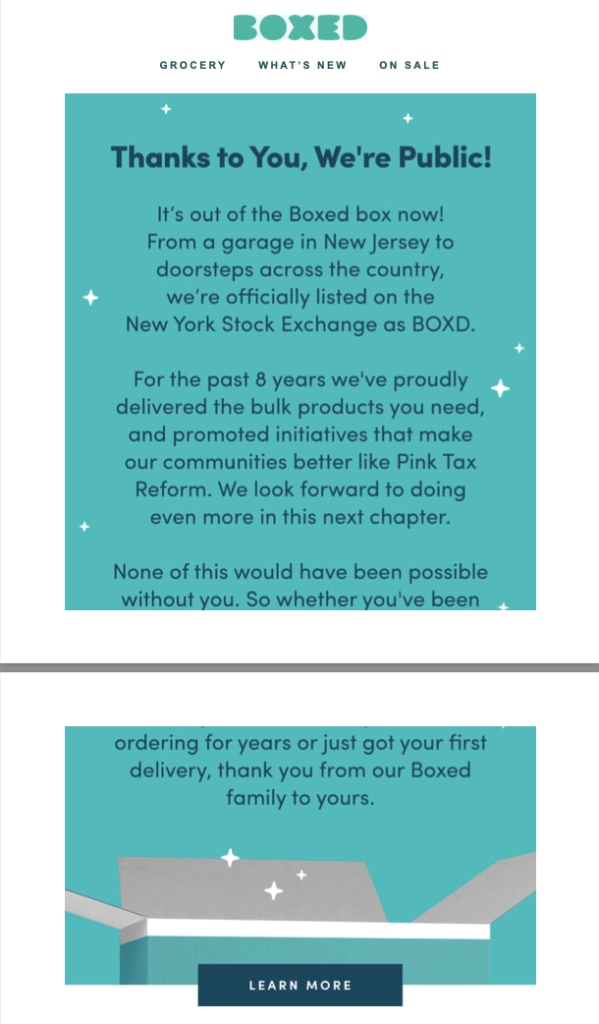 • From the Wall Street Journal this morning:
"U.S. inflation reached a nearly four-decade high in November, as strong consumer demand collided with pandemic-related supply constraints.
The Labor Department said Friday the consumer-price index—which measures what consumers pay for goods and services—rose 6.8% in November from the same month a year ago. That was the fastest pace since 1982 and the sixth straight month in which inflation topped 5%.
"The so-called core price index, which excludes the often-volatile categories of food and energy, climbed 4.9% in November from a year earlier. That was a sharper increase than October's 4.6% rise, and the highest rate since 1991.
"The November prices trend came before the emergence of the Omicron variant of Covid-19, which poses a new threat from a pandemic that is well into its second year."