Amazon announced this morning that it is expanding the use of its Amazon One - described as "a fast, convenient, contactless way for people to use their palm to enter, identify, and pay" - to a Whole Foods store in Seattle, with plans to "add Amazon One as an option to seven additional Whole Foods Market stores in the Seattle area over the coming months."
The Amazon One system currently is operating at a number of the company's bricks-and-mortar stores in the Seattle market - three Amazon 4-Star stores, two Amazon Books units, five Amazon Go stores, one Amazon Go Grocery store, and one Amazon Pup-Up store.
According to the announcement, "Customers who are new to using Amazon One can sign up at any Amazon One kiosk or device in participating stores, and enrollment takes less than a minute. After they insert their credit card, customers hover their palm over the device and follow the prompts to associate that card with the unique palm signature being built in real-time for them by our computer vision technology."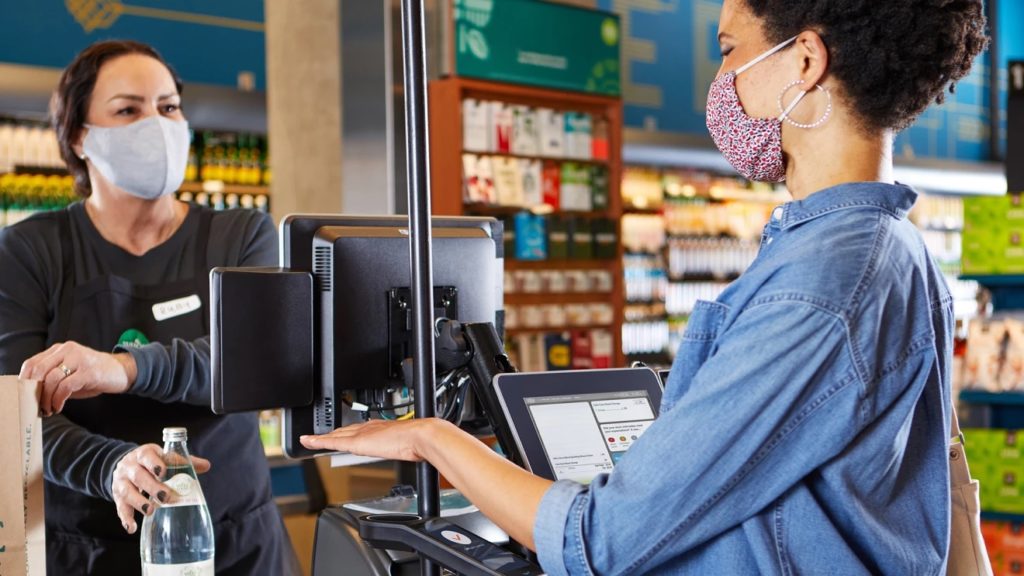 Amazon also is offering the technology to other retail businesses, saying on its website that "if you're a business that wants to provide your customers a seamless service, faster payments, and a personalized experience - contact us to learn more about how Amazon One can help." Amazon says it is "in active discussions with several potential customers."
This approach is consistent with how Amazon also has been licensing out its Amazon Go technology to outside retailers.
The company addresses security concerns by saying that "at Amazon, nothing is more important to us than earning and maintaining customer trust. We take data security and privacy seriously, and any sensitive data is treated in accordance with our long-standing policies. With this in mind, we designed Amazon One to be highly secure. For example, the Amazon One device is protected by multiple security controls, and palm images are never stored on the Amazon One device. Rather, the images are encrypted and sent to a highly secure area we custom-built for Amazon One in the cloud where we create your palm signature."
KC's View:

Pretty much from its inception, a core value at Amazon has been the reduction of friction for the customer … and there are few things that create more friction in the traditional shopping experience than checking out. Together with Amazon Go's Just-Walk-Out technology, this is a major effort at creating an infrastructure that differentiates Amazon from everybody else. Except, of course, the companies to which it chooses to license the technology.

It's interesting to watch how these efforts take shape.

The Seattle Times is reporting that Amazon is opening a salon in London that looks to impose high technology onto the act of getting a haircut.

According to the story, "The salon will include tablets at every chair, a screen to virtually 'try on' hair colors and a station to display information about different products when a customer physically points at them … The salon is only open to employees to start — a traditional Amazon strategy."

Amazon reportedly is teaming with a local stylist to give it some street cred in the follicle department, but the story makes the point that this likely is more about pushing the limits on computer vision, rather than hair care. The more Amazon can use technology to make life easier and more convenient for shoppers, it believes, the better it is for Amazon.

I think it is a pretty good bet.