For almost 19 years, Friday's MNB has featured "OffBeat," consisting of movie-television-book reviews, as well as a sometimes meandering travelog about ballparks I visited, wines and local beers I consumed, and random comments on a variety of subjects.  Basically, it was whatever I wanted it to be.
Recently, however, I've developed an itch to add some different elements to OffBeat … and so this morning I'm going to introduce one of them - the first of a series of occasional interviews with authors (or other personalities when the opportunity and urge strike) whose work I like and who I find to be interesting. Basically, I'll be interviewing anyone I want to, just because I want to.
I'll still be doing the reviews and commentaries, but hopefully this will add some additional spice to the mix.
First up - Mike Lupica, one of the nation's best-known sportswriters, who has carved out a significant side hustle as the author of best-selling young adult sports novels. He's also a mystery writer - I first interviewed him back in the mid-eighties for a local newspaper profile when he published his first book in the genre, "Dead Air."
Lupica was kind enough to spend some time with me via Zoom, and we talked about his books, and the challenges of following some pretty impressive acts. He's taken up the mantle of one of my favorite authors, Robert B. Parker, in two of his series - the Sunny Randall books (he's written two and is at work on his third) and the Jesse Stone novels, the first of which, "Fool's Paradise," is out this week.
I've had a chance to read it, and was especially interested to see where he would take Jesse.  Lupica is, in fact, the fourth writer to take a shot at this series:  there was Parker, and then after his death, Michael Brandman wrote a few, followed by Reed Farrel Coleman, and now Lupica.  Brandman is one of the creative folks behind the Jesse Stone TV movies that starred Tom Selleck, and his books seemed to be trying to connect the two universes and suffered because he wasn't really a novelist;  Coleman's were terrific, but darker - he immersed himself in Jesse's angst, and few writers write angst better.  Lupica's effort has a lighter tone, as he looks to make the series more Parker-like, and that's one of the things we talk about in our conversation.
I hope you enjoy it.
"Robert B. Parker's Fool's Paradise" is available on Amazon, from the iconic independent bookstore Powell's, and at your local bookseller.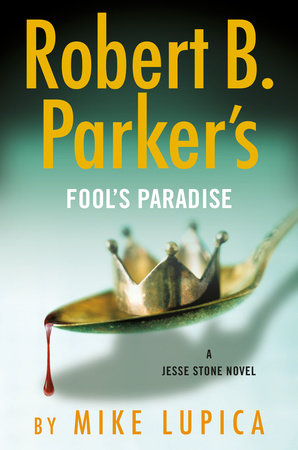 Some additional random and OffBeat thoughts …
It has been odd of late. (Probably the understatement of the year.) For some reason, I've found it difficult to focus on many movies or TV series. While there are a bunch of things I'd like to see - new stuff that seems like it might be intriguing and old stuff that for some reason I never got a chance to watch or finish (am I the only person in America who has not seen "Breaking Bad"?), for some reason I can't seem to find the desire to plop myself in front of the TV set.
Instead, I've been on a bit of reading jag. In addition to Lupica's "Fool's Paradise," I went back to the beginning of John Sanford's "Prey" series since you all told me - after I reviewed and loved his most recent book, "Masked Prey" - that I should, and have finished the first and second, "Rules of Prey" and "Shadow Prey," and am about halfway through the third, "Eyes of Prey." It is interesting to see how the main character, Lucas Davenport, has evolved over 30 years; in the early books, he's uncomfortably close to being a sexual predator, and it just doesn't play as well in 2020. But they're fun reading otherwise, especially because I know that at some point his life takes a turn.
I've also read Michael Lewis's "The Fifth Risk," which prompted me to borrow his "The Undoing Project" from a neighbor who recommended it; it is next on the list. I've read the new Ted Bell thriller, "Dragonfire," which is a rollicking good time, as well as Stuart Stevens's "It Was All Lies," which isn't, but is a fascinating read. I've also got Carl Hiaasen's new "Squeeze Me" in the queue, and a couple of novels and memoirs that some publishers have sent along. At the end of next month I have the new Jack Reacher novel, "The Sentinel," on the schedule, and a few weeks later comes the new Lincoln Lawyer novel by Michael Connelly, "The Law of Innocence."
And this doesn't even include finishing "The Secret Life of Groceries" and getting started on the new Reed Hastings' book, "No Rules Rules: Netflix and the Culture of Reinvention," which is on the nightstand. I've also got Richard Ben Kramer's classic "What It Takes: The Way To The White House," which is about the 1988 presidential campaign, staring at me - I've always meant to read it, and feel like I should try to read it sometime in the next 50 days. But it is more than a thousand pages, and I do have a day job.
Other than putting on the ballgame, who has time to watch TV anymore?
I have, however, been listening to "Letter to You," a new song from Bruce Springsteen that dropped yesterday, part of a new album scheduled to be released next month. It is a terrific song, with classic E Street Band energy, and the Hollywood Reporter writes that "the album includes nine songs recently written by Springsteen, and three new versions of previously unreleased tracks from the 1970s: 'Janey Needs a Shooter,' 'If I Was the Priest' and 'Song for Orphans'."
In a statement, Springsteen said, "I love the sound of the E Street Band playing completely live in the studio, in a way we've never done before, and with no overdubs. We made the album in only five days, and it turned out to be one of the greatest recording experiences I've ever had."
Go figure. Old dog. New tricks.
I did find the time to watch the live-action version of Mulan last week, and thought it was a serviceable version - no music, no talking animals - version of the classic Chinese tale that Disney animated - with music and talking animals - 22 years ago.
The movie has some tonal issues - there are times it wants to be a fairy tale, times it wants to be realistic, and times it seems to be taking its cues from The Matrix. But the cast is attractive, the story remains timeless, and the one thing I kept thinking was that if I had a young daughter or granddaughter, I'd want her to see this story of a young woman who pretends to be a man so she can serve in the Emperor's army, charged with repelling an invasion force.
But then I thought more about it, and realized that if I had a young son or grandson, I'd take him to see it as well … because guys may need to learn this lesson of gender equality more than women do.
That's it for this week. I'll see you Monday.
Have a great weekend … stay safe … be healthy.
Sláinte!