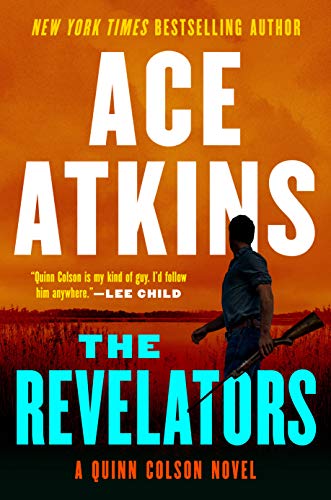 When last we saw Sheriff Quinn Colson, he had just barely survived an assassination attempt by The Watchmen, a militia group in Tibbehah County, Mississippi. Colson at that point had spent nine books, starting with "The Ranger" almost a decade ago, trying to clean up the place where he'd grown up after having returned from the service. But it always has seemed as if he's been pushing a boulder up a very steep hill, facing off with criminals both sophisticated and crude, as well as the politicians who enabled and exploited them.
In his newest novel, "The Revelators," Ace Atkins begins by returning to the scene of the crime, but then advances forward by about a year to find Colson still struggling to return to duty, dealing with both nagging injuries and a growing dependence on pain killers. He's been replaced by a corrupt sheriff, who has been brought in by a magnificently corrupt Governor, and who in turn has peopled the police department with equally corrupt deputies. But Colson, despite the odds against him, remains at his core a good man; think Gary Cooper in High Noon, or, more recently, Steve McQueen in Bullitt - resolute in the face of daunting odds. The fact that events have put family members in danger, and his wife is about to give birth, only raises the stakes.
One of the things about Ace Atkins' work in the Quinn Colson novels is how he has effectively created a tapestry of people and places that make fictional Tibbehah County such a specific and realistic place. The supporting characters - good and evil - are painted with care, and even (maybe even especially) the bad guys (and women) are given their due … we know their motivations and priorities in detail. Actors often say that bad guys are a lot more fun to play than good guys, and I suspect that Atkins might say that they're also more fun to write.
Two of the best characters in the series are women - US Marshal Lillie Virgil, who is more Clint Eastwood than Clint Eastwood, and Fannie Hathcock, who has graduated from running a strip club to becoming a crime queen dominating Mississippi and with even greater ambitions than that. They're terrific … and there is a sense that their final collision will be like when an unstoppable force meets an immovable object.
It is the complexity and depth of the narrative that will serve Atkins and his creations well now that HBO has optioned the books with the intention of turning them into a series. It also is the timeliness of the book's context - there is much in "The Revelators" that reflects the conflicts that seem to typify the American south at the moment - that has the potential of making it a must-see series. The Confederacy never seems to be in the distant past in this and other Colson books; it is like a ghost that keeps reaching out from the grave, trying to drag people into a past in which bitterness and entitlement are plentiful, and in which good men and women struggle to not just do the right thing, but to enforce justice.
"The Revelators" is a terrific book - the best kind of page turner, crying out for the next installment to be published sooner rather than later.
"Defending Jacob" is a new Apple TV series, and eight-part production focusing on what happens when a Massachusetts assistant district attorney's 14-year-old son is suspected of murder. Examining the impact of the charges on his family, "Defending Jacob" reeks of ambiguity … it is one of those series where you start to develop convictions about what happened and what didn't, only to have your beliefs undermined, and you have start figuring it out all over again.
Chris Evans and Michelle Dockery are excellent as the shell-shocked parents, while Jaeden Martell, as their son, will keep you guessing. Cherry Jones also is terrific as the son's defense attorney.
If I had one criticism of "Defending Jacob," it is that it probably could have been six episodes, but that seems like nitpicking. I was never bored, and as the series moved to its conclusion, I was on the edge of my seat.
It is an entirely different experience, but I also liked the first four episodes of 'Little Voice," an Apple TV series about a young woman in New York City trying to find her voice as a singer/songwriter. The music is lovely, there are some very appealing performances (especially by Brittany O'Grady in the lead), and the whole thing plays like a fairy tale - especially now, when clubs and bars and new intimate relationships seem like a long-ago memory.
My son, Brian, has converted me to his preferred summer drink: Hendrick's gin, tonic water, and several thin slices of cucumber. It is delicious, and once again, the parent learns from the kid. (He's 31, and probably would not like being referred to as a "kid." But he'll always be my kid.)
That's it for this week. Have a great weekend, and I'll see you Monday.
Stay safe. Stay healthy.