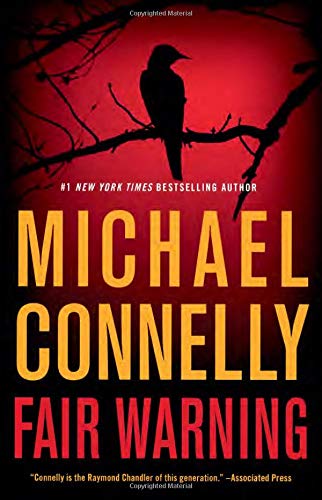 When Michael Connelly, then already known for his Harry Bosch novels, introduced a new character, reporter Jack McEvoy, in "The Poet" in 2003, the news business was a very different place than it is today. "The Poet" was not a treatise about the news business, though. It was a terrific thriller about the search for a serial killer whose latest victim was McEvoy's police detective brother. And McEvoy was a character clearly close to Connelly's heart; like his creator, he was a newspaper reporter (for the Rocky Mountain News), and from the novel's sentence - "Death is my beat" - Connelly delivered a propulsive thrill ride in the guise of a finely crafted piece of storytelling. (Or maybe it was a a finely crafted piece of storytelling in the guise of a propulsive thrill ride. Doesn't really matter.)
When "The Poet" takes place, McEvoy's laptop is seen in the story as something of a curiosity. Connelly waited six years to write another McEvoy novel - "The Scarecrow" - by which time the internet had become far more popularized, which gave Connelly a narrative frame upon which to build another thriller. In "The Scarecrow," McEvoy is being laid off by the Los Angeles Times, a victim of an internet that was putting newspapers out of business or dramatically cutting their news budgets. That gave Connelly a terrific backstory for McEvoy's search for yet another serial killer, and he had yet another success on his hands.
I tell you all this because Connelly is out with another Jack McEvoy novel - "Fair Warning." While I'd read "The Poet" and "The Scarecrow" when they first came out, it's been a while, and so I went back and re-read them in the days before "Fair Warning" was released. It was a good thing to do, since it gives the characters added context and texture I might not have gotten otherwise, but not necessary. (Unless, of course, you just want to read a bunch of great novels.)
"Fair Warning" finds McEvoy now working for a consumer website, but when a woman he knew is found murdered, old instincts kick in and he finds himself finding connections between a series of murders - and yes, pursuing a serial killer. Connelly has found yet more fertile territory on which to place his story - the world of DNA testing and tracking - which shows us how much the world has changed since "The Poet." The result is an exciting, propulsive, can't-put-it-down thriller.
McEvoy is a fascinating character - he's obsessive to an almost dangerous degree, he puts his profession above his relationships (and has in all three books, which explains his problematic relationship with FBI Agent Rachel Walling), and he's flawed in his willingness to bend the rules to get the story. But he's also a throwback to a time when journalists were heroes, when news with which we were uncomfortable wasn't automatically labeled "fake," and when it was a noble pursuit to comfort the afflicted and afflict the comfortable. (Why they haven't turned any of these books into a film or TV series is beyond me.)
I'm not sure if the next McEvoy novel is three or five or 10 years in the future, but you can sign me up right now.
My wine of the week - the 2018 Chateau de Berne Romance Rosé, which is a lovely and light summer wine with a ton of flavor … perfect as the nights get warmer and the humidity gets higher.
That's it for this week. Have a good weekend, and I'll see you Monday.
Stay safe. Stay healthy.