The death last week in Minneapolis of an African-American man, George Floyd, at the hands of a white police officer, has prompted nationwide protests - sometimes peaceful, sometimes violent - that have ravaged neighborhoods and destroyed some businesses.
Calmer voices called for justice - the killing of Floyd was caught on various video cameras, with the result burned into the memories of everyone who saw the footage - and not just for a meaningful discussion of race and persistent racial tensions in America, but also for a public policy that reflects the reality of the moment.
And, as the protests played out across the internet and cable television screens, businesses found themselves in the middle of the tumult, even as many of them were still trying to regain their footing as the nation's economy slowly reopens and tries to recover from the Covid-19 coronavirus.
Here's how some of the coverage played out.
• The Wall Street Journal writes that "in some cities, smaller businesses bore the brunt of the damage. In Minneapolis, a family-owned liquor store, an Indian restaurant, a chiropractor and other businesses were left in rubble near the closed Lake Street Target." The Journal notes that "some of those businesses were just starting to reopen this month as protests kicked off following Mr. Floyd's death during an arrest. Authorities have charged one of the arresting Minneapolis officers, Derek Chauvin, with third-degree murder and manslaughter. Mr. Chauvin was seen on video pressing his knee on Mr. Floyd's neck while Mr. Floyd begged for help."
• From CNBC:
"Major retailers across the country are temporarily closing their stores in areas hit hard with protests against police violence.
"Target, Apple and Amazon-owned Whole Foods are among the retailers that announced they would shutter locations temporarily or adjust store hours around citywide curfews. Some Apple, Target and Whole Foods stores were damaged by looting, as demonstrations turned violent in several cities across the U.S."
The story says that "the protests are likely to set back some retailers' plans to reopen stores that were closed in the wake of the pandemic. For example, Apple had already shuttered about half of its 271 stores in the U.S. amid the coronavirus outbreak, though it reopened roughly 100 stores last week."
It goes on: "Whole Foods, which Amazon acquired for $13.7 billion in 2017, said Sunday it was temporarily closing or adjusting store hours at several locations across the country.
"Whole Foods' stores near Los Angeles, Minneapolis and Chicago all remain closed. The company's Bryant Park store in New York City has only been open for grocery delivery for several weeks due to the coronavirus outbreak, but the store is ending online orders early as a result of protests, a Whole Foods spokesperson told CNBC.
"The spokesperson said Whole Foods is ensuring that affected locations close well ahead of when citywide curfews begin so that store associates can get home safely. Minneapolis, Chicago and Los Angeles all announced curfews this weekend that are expected to last at least through Monday morning."
CNBC reports that "Target announced late Saturday that it's temporarily closing 175 stores across the country as a result of ongoing protests.
"The company, which operates 1,900 stores across the U.S., closed 71 stores in Minnesota and at least a dozen stores in California and New York. Any Target employees impacted by the store closures will be paid for up to 14 days of scheduled hours, including Covid-19 premium pay, the company said."
The CNBC story says that "Target CEO Brian Cornell wrote in a post on Sunday that "as a Target team, we've huddled, we've consoled, we've witnessed horrific scenes similar to what's playing out now and wept that not enough is changing … And as a team we've vowed to face pain with purpose."
And, CNBC reports, "Walmart said Sunday evening it would close hundreds of stores nationwide, the company confirmed to CNBC.
Some Walmart stores were physically damaged or looted amid protests that turned violent. On Friday, the company closed stores in Minneapolis and Atlanta. As the protests continued throughout the weekend, Walmart later moved to close stores at locations across the country, a Walmart spokesperson said … Walmart plans to reopen stores that were shuttered on Monday, as long as there is no physical damage at those locations and it's determined that the surrounding area is safe, the company said."
• The Wall Street Journal writes that "around a dozen Walmart stores have been damaged, with more closed pre-emptively over the past few days. On Sunday evening, Walmart closed several hundred stores throughout the country. The damage so far has included looting and other property damage, but no employees have been hurt, a Walmart spokesman said Sunday … Walmart Chief Executive Doug McMillon said in a statement Friday that 'this week is further proof we must remain vigilant in standing together against racism and discrimination'."
• From Business Insider:
"As protests over George Floyd's death turned to riots across the country, Amazon offered an extraordinary show of support for the protesters and the Black community.
"The Seattle retail and cloud giant tweeted out a statement that point-blank said that 'inequitable and brutal treatment of Black people in our country must stop.'
"Should Amazon decide to put its weight behind such a message, it could be a game-changer, given that Amazon has itself faced criticism of its treatment of its warehouse and Whole Foods workers, and the sale of facial recognition technology to law enforcement agencies."
The story goes on:
"Amazon Web Services has also been accused of selling facial recognition technology to law enforcement agencies even though facial recognition tech does a far poorer job recognizing non-white faces, according to various studies. The concern is facial recognition could jeopardize the civil liberties of people who are misidentified. Amazon has criticized those studies, alleging that the technology was misconfigured.
"So, Amazon's unequivocal statement of support for the Black community is particularly meaningful, particularly if Amazon begins with its own house and then throws its massive resources behind efforts to help police department solve the problem."
• USA Today reports that "Amazon is limiting deliveries and shifting routes in some cities that have been rocked by protests over the killing of George Floyd.
"The e-commerce company is making the changes and reductions in several communities to keep its employees safe amid unrest sparked by Floyd's killing by a white Minneapolis police officer."
• Business Insider also reports that "Twitter changed its logo, added a link to #BlackLivesMatter to its accounts and tweeted out a string of 'take action' advice that began with this statement: "The recent killings of Ahmaud Arbery, Breonna Taylor, Tony McDade, and George Floyd, and the victimization of Christian Cooper has left many of us angry, and with a deep sense of grief, but it doesn't compare to what Black and Brown people face every day. #SayTheirNames"
And, the story notes, Microsoft "tweeted out the link to a speech by CEO Satya Nadella last week in which he addressed the situation and pointed out that Microsoft is working with 'the Criminal Justice Reform Initiative, investing in partnerships and programs, working to drive reforms, focusing on policing'."
• Lunds and Byerlys sent out an email to customers over the weekend advising them of adjusted store hours: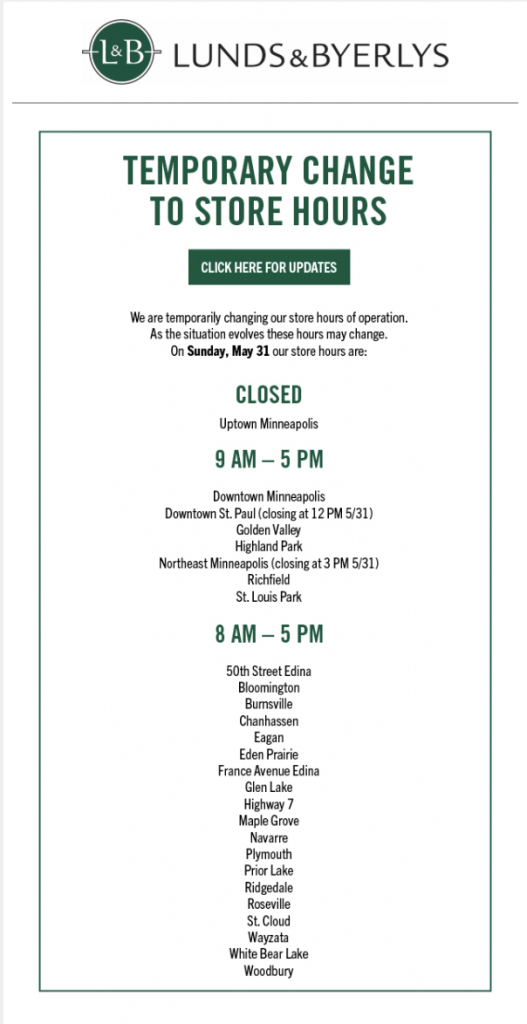 • Some analysis from the New York Times:
"Major companies are often wary of conflict, especially in a polarized time. They tend to be afraid of offending their customers and associating their brands with sensitive subjects.
"American advertisements often shy away from addressing political issues, like impeachment, and also steer clear of news stories about violence, drugs and, recently, the coronavirus pandemic.
"But after Mr. Floyd died on Monday in Minneapolis, a wide range of companies began to take much more public stances on racial injustice and police violence.
"Speaking out on social issues is often a calculated decision, a form of 'values and identity-driven targeted marketing,' said Americus Reed, a marketing professor at the Wharton School at the University of Pennsylvania. By aligning corporate values with what customers care about, companies are hoping to build a sense of loyalty and a deeper sense of personal connection, he said."
• And finally, CNBC reports that Nike released an ad on Friday that played off its familiar "Just Do It" campaign, imploring people: "For Once, Don't Do It... Don't pretend there's not a problem in America... Don't turn your back on racism."
"Nike has a long history of standing against bigotry, hatred and inequality in all forms," the company said in a statement about the ad. "We hope that by sharing this film we can serve as a catalyst to inspire action against a deep issue in our society and encourage people to help shape a better future."
As of this morning, the ad had more than 6.5 million views.