Random and illustrative stories about the global pandemic, with brief, occasional, italicized and sometimes gratuitous commentary…
• In the US as of this morning, there have been 1,238,052 confirmed cases of the Covid-19 coronavirus, with 72,284 deaths and 200,669 reported recoveries.
Globally, there are the numbers - 3,744,300 coronavirus cases, 258,882 deaths, and 1,248,825 reported recoveries.
• Axios this morning has a map - based on data from The Center for Systems Science and Engineering at Johns Hopkins - that shows where during the past week the number of Covid-19 cases have increased, remained stable, or decreased.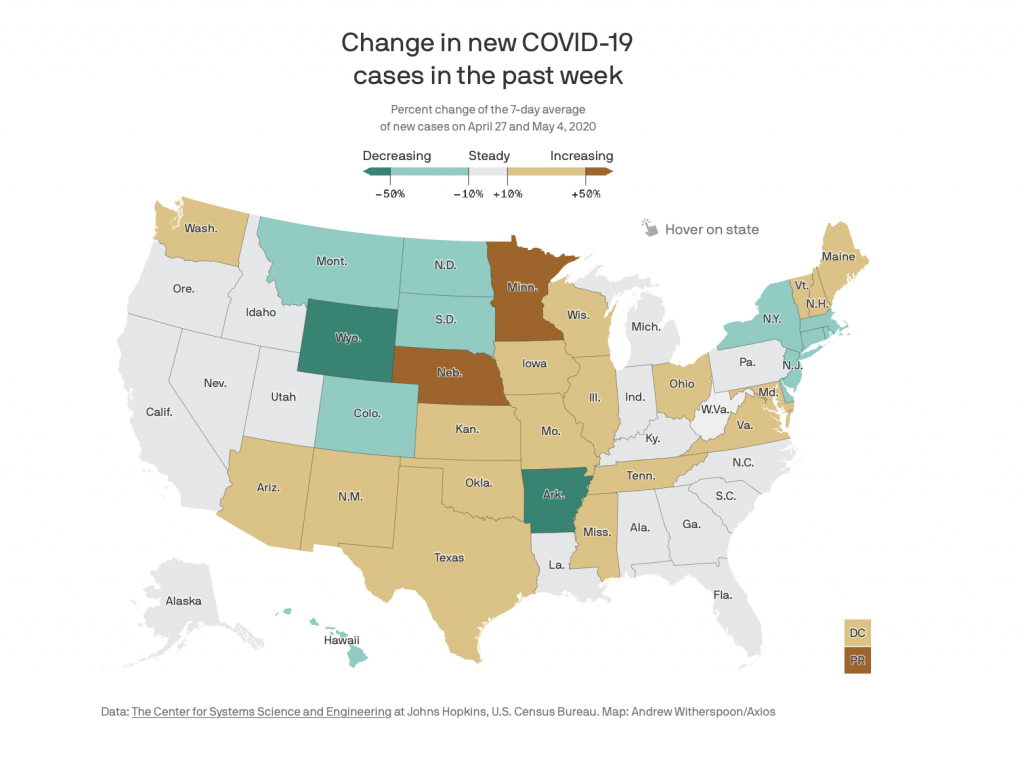 • Marketplace on National Public Radio (NPR) reports on its new poll saying that "more than one-third of households have lost income since the COVID-19 pandemic began."
The poll shows that "more than 32% of households say they've lost income since the pandemic began. About 26% of Americans who are currently working say they've experienced a paycut, while 36% are working fewer hours."
At the same time, "about 69% of the American workforce is either unemployed or fears losing their jobs in the next 12 months, a massive shift from just a few months ago. In September, the unemployment rate had ticked down to 3.5% — a 50-year low. Nearly a quarter of Americans are not at all confident that they would find a new job within six months if they were to lose their current job. (That's more than double since last year.)"
• From Politico:
"The White House is planning to wind down its coronavirus task force in the coming weeks as it shifts focus to reopening the economy.
"The move is a more formal recognition of a strategy that has been developing in recent weeks.
"President Donald Trump and his aides have been shifting their attention toward jolting the country's finances and speeding up vaccine development — even as the virus continues to spread to new areas of the country and the overall caseload climbs. On Tuesday, Trump said the task force will be replaced by advisory groups of 'a different form'."
UPDATE:  Axios reports that President Trump this morning tweeted "that the White House's coronavirus task force will continue 'indefinitely' but move to focus on 'safety & opening up our country' … Trump noted that the administration may seek to 'add or subtract people ... as appropriate' — adding to concerns that the White House could oust medical officials as it seeks to reframe the pandemic as an economic crisis."
• CNBC has an interview with Jason Ackerman, the co-founder and former CEO of the FreshDirect pure-play e-grocery business, in which he says that customers' shifting grocery shopping habits have inspired "more deals in online grocery ... than I've ever seen before."
As retailers have struggled to keep up with suddenly increasing demand for e-grocery services, Ackerman says, the current situation has "underscored the need for more investments in infrastructure to speed up order fulfillment and provide a better customer service experience."
Ackerman also says that he thinks that the pandemic experience may prompt online grocers to edit their grocery selections. "A lot of people are moving towards a place of 'Keep in stock what you can. Offer less choice, so what you do offer, you can keep on shelf,'" he says. "That is a very big concern, particularly online where out-of-stocks result in half orders."
It was just months ago that FreshDirect's competitive and infrastructural issues were prompting a lot of speculation about how it might be for sale, or at least open to a merger. But it may be that by putting e-grocery on fast-forward, propelling the segment to where, under normal circumstances, it might have been in four or five years, the pandemic has illustrated both need and opportunity.
• From the Daily Beast:
"The spread of the novel coronavirus in Florida likely began in January, or maybe even earlier, several weeks before the first case was confirmed in the state at the start of March" - new data from Florida health officials that it says "could change the understanding of how the disease spread through the nation. Health officials reportedly documented at least 170 COVID-19 patients with symptoms between Dec. 31 and Feb. 29. Forty percent of those patients had no known contact with someone else with the virus and the majority hadn't traveled."
Eric Toner of the Johns Hopkins Center for Health Security describes it this way: "That's community spread... It's invisible, it's invisible, it's invisible, until it's suddenly obvious."
• The Wall Street Journal reports that "French doctors have discovered a case of the new coronavirus dating from late December in a man who was hospitalized near Paris, the earliest publicly identified Covid-19 infection outside China.
"The case, in a man with no history of travel to China, changes the timeline of the pandemic, suggesting that the virus was spreading in Europe at least weeks earlier than previously believed and more than a month before Italy's outbreak. The finding is a crucial step in a global medical investigation that is scrutinizing how the virus originated in China and then spread to the West, infecting more than 3.6 million people and killing at least 252,000."
Yet more evidence that there is so much more that we don't know about this virus than stuff that we do know … which perhaps ought to temper people's expectations about any sort of "return to normal."
• The New York Times reports this morning that Wendy's, which famously adopted the slogan, "Where ther beef?," now has an answer: "Not here."
That's because a meat shortage, caused by the closing of some meat processing plants because of the coronavirus, has found its way to at least some of America's fast food restaurants.
"On Monday," the Times writes, "nearly one-fifth of Wendy's restaurants — a total of 1,043 locations — were completely sold out of beef products, including burgers, according to analysis by the financial firm Stephens, which examined the online menu at every Wendy's in the United States … The problems at Wendy's are most likely only the beginning of fresh beef shortages that may reach their peak around Memorial Day, when many Americans will be firing up grills. (Analysts say there is no shortage of frozen beef in cold storage.)
"Last week was the fourth week in a row that the number of cattle slaughtered fell below 500,000, down more than 35 percent from average beef production, according to Cassandra Fish, a meat industry analyst."
Meat shortages also have caused retailers including Kroger, Costco, Wegmans and Hy-Vee to limit the amount of beef they are allowing shoppers to buy.
• From the Des Moines Register:
"More than 1,600 workers at four Iowa meatpacking plants have been infected with the coronavirus, state health officials reported Tuesday.
"The worst-hit factory is the Tyson pork processing plant in Perry, where 730 workers tested positive for the virus, the Iowa Department of Public Health reported. That means that 58% of the workers who were tested at the plant had the virus, Deputy Public Health Department Director Sarah Reisetter said at the state's daily news conference about the pandemic.
"Reisetter also reported outbreak numbers for two other Tyson meatpacking plants.
The plant in Waterloo had 444 workers test positive, which was 17% of those tested. The one in Columbus Junction has 221 workers test positive, which was 26% of those tested. At the Iowa Premium Beef plant in Tama, 258 workers tested positive, which was 39% of those tested, she said."
• MarketWatch reports that plant-based meat manufacturer "Impossible Foods said Tuesday that its flagship Impossible Burger product will be available at 1,700 Kroger Co. starting today. In addition to the namesake Kroger stores, Impossible Burger will be available at Fred Meyer, King Soopers, Ralphs, Smith's and other Kroger chains."
Timing is everything.
• Fast feeder Chick-fil-A and fast casual chain Denny's are expanding their presence in the meal kit business even as states around the country are starting to allow dine-in service after weeks of closures.
Chick-fil-A is offering a $14.99 Chicken Parmesan Meal Kit, Nation's Restaurant News reports, while Denny's is bringing out four new meal kits that start at $12.99. And, the story says, "Simultaneous with rolling out the meal kits, Denny's is adding a line of groceries and household retail products, including toilet paper, eggs and bread. Both lines are being marketed under the name Denny's Market and are available for takeout and delivery."
I continue to believe that we're going to see a lot of restaurants, to varying degrees, stay and even expand their market offerings … which essentially will mean that they are expanding their definition of what "feeding people" means. It expands consumer options, and expands the competitive set for anyone in the food business.
• Another example of how restaurants are adapting to a new reality, from Oregon's Willamette Week:
"Clyde Common, the downtown restaurant credited with helping transform the Portland food scene over a decade ago, will close permanently as a result of financial hardships stemming from the coronavirus pandemic.
"Co-owner Nate Tilden says he plans to eventually reopen in the same space with a drastically scaled-down concept. But in an email to staff obtained by WW, Tilden informed employees yesterday they will not be getting their jobs back … In an effort to honor the restaurant's existing lease, Tilden will first convert the space into a marketplace selling dry goods and to-go sandwiches. He says he will run the counter himself, possibly with family members and volunteers, and not take a salary … When dine-in restaurants are allowed to begin operating again, Tilden then plans to pivot to a smaller, tavern-style model. He may hire back a small handful of employees."
• The BBC reports that UK online grocer Ocado is saying that it appears that "more normal" shopping habits seem to be returning "after a huge jump in demand amid the coronavirus lockdown."
The company says that "its customers are now purchasing fewer items than at the peak of demand, with the balance between fresh and long-life food returning to normal."
The shift comes after an April in which revenue was up more than 40 percent compared to a year earlier, and an extended period in which Ocado had to place limits on certain product categories because of demand, had to increase the number of available delivery slots, and had to restrict its service to existing customers because it simply could not handle any new shoppers under the circumstances.
• By the end of the week, Starbucks expects to have 85 percent of its US stores opened, "with an emphasis on mobile ordering, contactless pickup and cashless payments, as more cities and states ease lockdown restrictions due to the coronavirus pandemic," the Washington Post reports, noting that "the company's mobile app — which is already used by roughly 20 million customers — will include new options for voice ordering and curbside pickup."
CEO Kevin Johnson says that the company will "shift toward more cashless experiences, knowing that the handling of cash creates consumer concerns about the spread of viruses." Johnson says that he expects that the Starbucks mobile app will "become the dominant form of payment."
My argument weeks ago was that Starbucks simply ought to make the mobile app the only form of ordering and payment for the short-term future … the thirst for its products, built up over weeks when it was largely unavailable to most people, would compensate for any annoyance people might feel for being forced to use it.
• The Washington Post reports on bow severely the pandemic has hit the Walt Disney Company - operating income dropped 37 percent to $2.4 billion for the quarter ending March 31, while theme parks, the company said, "went from a profit of $1.5 billion last year to $639 million this year, a fall of 58 percent."
The Post writes that "worrying analysts is the worst is yet to come. The quarter included only a few weeks of the shutdowns in the U.S.; Disney closed its Asian parks in January and February but didn't close its U.S. parks until mid-March."
One possible piece of good news - Disney reportedly plans to reopen Shanghai Disneyland on May 11.
Still unknown … even if they open it, will people come?
• The Boston Globe has a piece observing that, even as the pandemic death toll continues to rise, "there are still those who insist the virus is no more severe than a bad flu."
And so, the Globe offers some reasons why that's incorrect.
First, "The coronavirus is more severe than the flu, more deadly than the flu, and it appears to spread more easily … Without a solid idea of how many people have been infected, it's not possible to reliably determine what percentage of those with the disease have died. But experts say the coronavirus is almost certainly more deadly than the flu."
Because we don't know how many people have been infected, we don't know the percentages - but we do know that "even with severe lockdown measures, the virus has killed nearly 70,000 Americans in just over three months."
The Globe notes that there is much we don't know about Covid-19, like all the ways in which it can be transmitted, or if exposure can make people immune, and for how long.
And, perhaps most alarmingly, "There's no proven treatment and no vaccine. A number of anti-viral drugs are being tested in hopes of finding an effective treatment for the coronavirus, and at least one has shown some early positive results. But unlike the flu, there is no treatment available that has been proven to reduce the severity or shorten the duration of COVID-19. And a vaccine is still many months away, whereas a flu vaccine is widely available every year."
• Connecticut Gov. Ned Lamont announced yesterday that Connecticut's schools will remain closed for the rest of the academic year.
The Hartford Courant notes that "Connecticut was one of the last states in the nation to close schools for the duration of the year. On Monday, New Jersey Gov. Phil Murphy announced that schools will remain closed and Massachusetts, New York, Rhode Island and Vermont had already cancelled."
• From the Washington Post:
"As scientists around the world race to develop a vaccine for the coronavirus, the pandemic is also stoking a surge of activity among activists who argue that such a vaccine must be resisted.
"Leaders of the anti-vaccination movement, who in recent years have seen their efforts frustrated as U.S. states have adopted stricter laws promoting the inoculation of children, are seizing on the anxiety and social unrest generated by the virus and the government attempts to contain it.
"Anti-vaccination protesters have been a visible presence in recent weeks at rallies to end the lockdowns that continue in many states. But beyond the rallies and hand-painted signs, the movement's chief organizers have launched a less confrontational but more far-reaching information campaign. Incorporating the rhetoric honed over years to sow fear of childhood vaccines, they maintain that mandated quarantines are new evidence of government officials' zeal to control individual health-care choices."
The story notes that a continuing focus of the anti-vaccination movement is Microsoft founder and philanthropist Bill Gates, who predicted the pandemic years ago, has been an outspoken about public health policy, and is helping to fund efforts to identify a vaccine. Gates, the Post writes, "has been the target of conspiracy theories that he helped create the pandemic and plans to use it for financial gain and to develop a worldwide system of human surveillance."
Oy. (I was going to write something a lot longer about how we cannot allow nuanced and informed public health policy based on actual science hijacked by people who hold crazy conspiracy theories and have no faith in science and medicine. But "Oy" seemed to sum it up a lot better.)

• From the New York Times, there is a story this morning about how panic buying - which used to be focused on things like toilet paper, hand sanitizer, paper towels and, more recently, meat - now seems to have been extended to another product line.
Peleton bikes.
According to the story, "Peloton, which last year endured a rocky initial public offering and a widely mocked holiday ad, is emerging as a potential winner of the quarantine economy. While gyms, boutique studios and personal trainers have been sidelined, home workout systems are thriving … Peloton's fortunes indicate a flip side to the economic devastation that is sweeping through the United States. While more than 30 million Americans are newly out of work because of the pandemic shutdowns, many others still have the disposable income to shell out more than $2,000 for a home exercise bike."
It isn't just Peleton: "Other home fitness companies have reported similar surges in demand. Sales at Echelon, which makes a less expensive internet-connected bike, grew five times higher than expected in the first three months of 2020, with demand comparable to Black Friday, said Lou Lentine, the company's chief executive. Icon Health & Fitness, which owns the NordicTrack and ProForm equipment brands, said sales last month were four times as high as a year earlier."
At the same time, "Gyms and studios, which have frozen memberships while they are closed, are hurting. Some yoga and dance studios have resorted to asking for donations in exchange for free online classes. Several national gym chains have faced lawsuits and state investigations for charging fees during the shutdown."
The thing is, even when gyms are allowed to open again, I'm not sure people will immediately start flocking back to them. Count me among them - we suspended our YMCA membership, but I think for the foreseeable future, I'll stick with my four-miles-a-day, five-days-a-week jogging schedule. (I'm hoping, however, Mrs. Content Guy and my daughter don't see the Peleton story. I don't need that kind of pressure…)