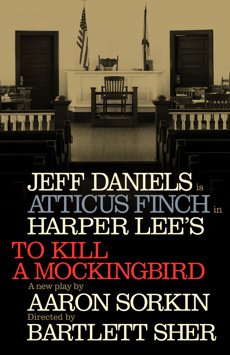 The new Broadway production of "To Kill A Mockingbird," a new play by Aaron Sorkin (The American President, Molly's Game, The Social Network, Steve Jobs, "The West Wing"), is, no surprise, a terrific piece of work. After all, it is at its core a courtroom drama, and Sorkin's first play was "A Few Good Men." And so, "Mockingbird" is a sharply written, well-observed piece of work that seems steeped in the culture and climate of fictional Maycomb, Alabama.

It is a play filled with wonderful performances, especially that of Jeff Daniels as Atticus Finch, the deeply moral Southern lawyer defending a black man accused of rape in a Southern town during the 1930s. Finch is one of the most iconic fictional characters in American fiction, largely because of the performance of Gregory Peck in the 1962 film version which also was based on the original Harper Lee novel.

While "Mockingbird" takes place in the thirties, and deals with a culture in which racism and bigotry is deeply ingrained, it so many ways it seems like a play of our time … there are phrases and attitudes in evidence that would not have seemed out of place during the recent events in Charlottesville, Virginia, and it reminds us that, regrettably, we have not come as fas as a nation and a culture as we'd like to pretend.

Daniels is wonderful in communicating the personal conundrum of a good and decent man who struggles to be respectful and tolerant of people and attitudes that he knows deep in his heart and soul to be wrong, misguided, and sometimes evil. Peck's performance in the film version has a kind of modulated and saintly quality; Daniels and Sorkin give him just a bit of an edge, as if he is constantly on guard against becoming what he despises.

Among the other standouts in the cast are LaTanya Richardson Jackson as Calpurnia, the Finch family housekeeper, who has a larger role here than in past versions. She serves as a kind of conscience of the piece; when Atticus at one point suggests that Maycomb needs more time to grow out of its racism, she retorts: "How much time would Maycomb like?" And Dakin Matthews is terrific as the judge in the case, finding unexpected depths of humor and humanity.

There have been reports that while the producers of "To Kill A Mockingbird" expected it to have a limited run based on Daniels' availability (like "Network," the play based on the 1976 movie, starring Bryan Cranston, which we're seeing in two weeks), they now believe that it could have a long and healthy run on Broadway. I think that's true; there are so many rich roles in this play that I suspect actors will be flocking to play them. I also think the play will tour well, so it may be coming to a city and stage near you.

If you get the opportunity, see it. The original book and play may have been about the thirties and came out of the increased racial consciousness of the sixties, but it ends up that "To Kill A Mockingbird," as interpreted by Aaron Sorkin, Jeff Daniels and their cohorts, is very much a play for and even about 21st century America.

To use a line from another famous play about another time, attention must be paid.



Back Monday. Have a great weekend.

Slàinte!