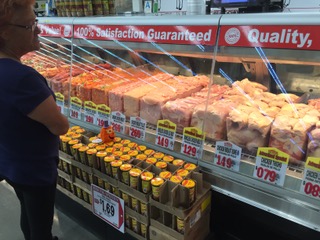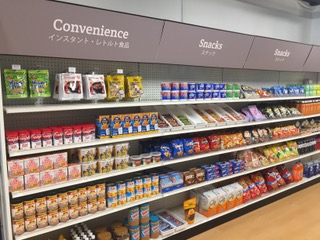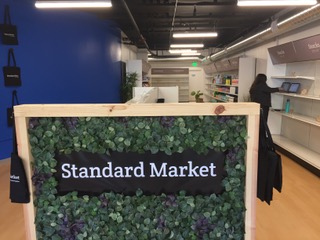 Content Guy's Note: I recently wrote this piece for California Grocers magazine (I've been writing a regular column or them for years) and they have kindly given me permission to re-post it here.

I've spent most of my life living on the east cost, but I've always thought of the west coast, especially California, as the promised land. Even before I went to college here - Loyolas Marymount University, Class of 1977 - California lived in my imagination as a place where anything could and often did happen.

(If I loved California so much, you may ask, why did I live my life 3,000 miles away? Oldest story in the book. I met a girl. But I digress…)

I thought about California as the land of innovation recently when I had a chance to spend two days in the state visiting stores that I think are highly creative and inventive in very different ways, offering different looks at the future of food retailing.

My first stop was in San Francisco, where there is a lot of experimentation taking place in checkout-free retailing. My initial stop was at a store that at this point seems like anything but an experiment - the first Amazon Go store opened there, at the corner California and Battery, in the middle of the city's Financial District and just blocks from the Embarcadero. I haven't been to the Chicago Amazon Go stores yet, but I'd suggest based on the San Francisco location that the company is getting a lot more comfortable and confident with the format, because this location is a ,lot busier than any of the Seattle sites. (It is, after all, downtown San Francisco.)

After I went to Amazon Go, I went to visit two other, independently operated checkout-free stores in the city - Zippin, and Standard Market - to see what they're bringing to this particular competitive table. To be honest, in some ways it is a little hard to tell from the physical locations, which are anything but prepossessing, or their hours of operation, which are limited to just a couple of hours a day. These stores are not operating retail entities, but modest showrooms designed to sell the technology to retailers and/or investors.

I'm not sure I'd gamble on either of them - yet. Zippin (bottom photo, at left) consists of just a few square feet of space occupied by a small set of shelves and two coolers; it is located behind a small door on the side of a building and there's no sign, and you can't even see in the window. Standard (5th and 6th photos) is located on a section of Market Street where, while one is waiting to be admitted, the main aroma in the air is that of human urine; even the scent of cannabis can't overcome it. It is larger than Zippin, with more SKUs, but hardly a place where one can do any serious shopping.

But here's the deal. The technologies, as much as they're willing to explain them, seems similar - and representatives at both locations emphasize that their business models are a lot less expensive than the technology used at Amazon Go. These reps also say that they're mostly focused on landing a retailer or two with which they can conduct tests that will prove their concepts. (Zippin says it is engaged in active negotiations with four retailers in different parts of the country. Standard isn't showing its cards.)

While I might not be willing to gamble the hard-earned, astronomically high fees that California Grocer pays me to write these columns (just kidding!) in either Zippin or Standard, I think it is noteworthy that there is so much experimentation taking place in the space - in this case, all of it within a couple of square miles of one city. And these are hardly the only three companies focused on this space - Microsoft is just one of the big companies investing in the development of checkout-free systems.

This is going to happen. The technology will work better and better, and if the labor market continues to get tighter and tighter, there will be an enormous amount of pressure on companies to adopt these kinds of solutions.

When I left San Francisco and traveled to Los Angeles, though, I found two wonderful examples of stores that, each in their own way, create distinct and differentiated experiences that I think are both relevant and resonant to their customers.

I first visited the brand new Lazy Acres store (top two pics) that Bristol Farms has opened on Pacific Coast Highway - and I was blown away. First reaction - if I lived nearby, I would love to shop this store. It is a celebration of fresh food, from the way in which the produce department runs across the entire front of the store (a look I love, by the way - it sets a wonderful tone and a farmers market sensibility) to the fresh food departments that run across the left wall (my favorite here was the poke bar). For me, this is the kind of store that utterly makes sense and speaks to the continuing value of bricks-and-mortar … so much of this store in sensory that it creates a fresh-and healthy siren call to which folks in Hermosa Beach, nearby Manhattan Beach, and even Redondo Beach are likely to respond.

Then, I went to the Superior Grocers store (3rd and 4th pics) on E. Martin Luther King Jr. Blvd. in Lynnwood - and found a big, colorful, bustling store designed to appeal to big families that make big meals from scratch in big pots. Most of Superior's stores cater to the Hispanic population, but there are are some that have primarily African-American and Asian customer bases; in all of these stores, however, there's no question that they are tapped into the immigrant experience, helping people with value-pricing and a selection that is both eclectic and broad to stay in touch with the cuisines of their homelands.

At the same time, Superior's management there recognizes that with new generations will come a kind of assimilation that will change their tastes and preferences, and so the company is developing new stores that will provide a kind of commercial connective tissue between the past and future.

While the Lazy Acres and Superior stores are vastly different in terms of their approach and target shoppers, I cannot help but feel that both are positioned well to face off with the kind of technology revolution being engineered up the coast. They are places with specificity of approach and attitude, offering many options that simply cry out to be seen and experienced.

Will they also evolve? Of course. That's not just inevitable, but the mark of smart leadership. I saw just some of what's happening in California during my recent visit there, and I'll be back to see more.

That's also inevitable.