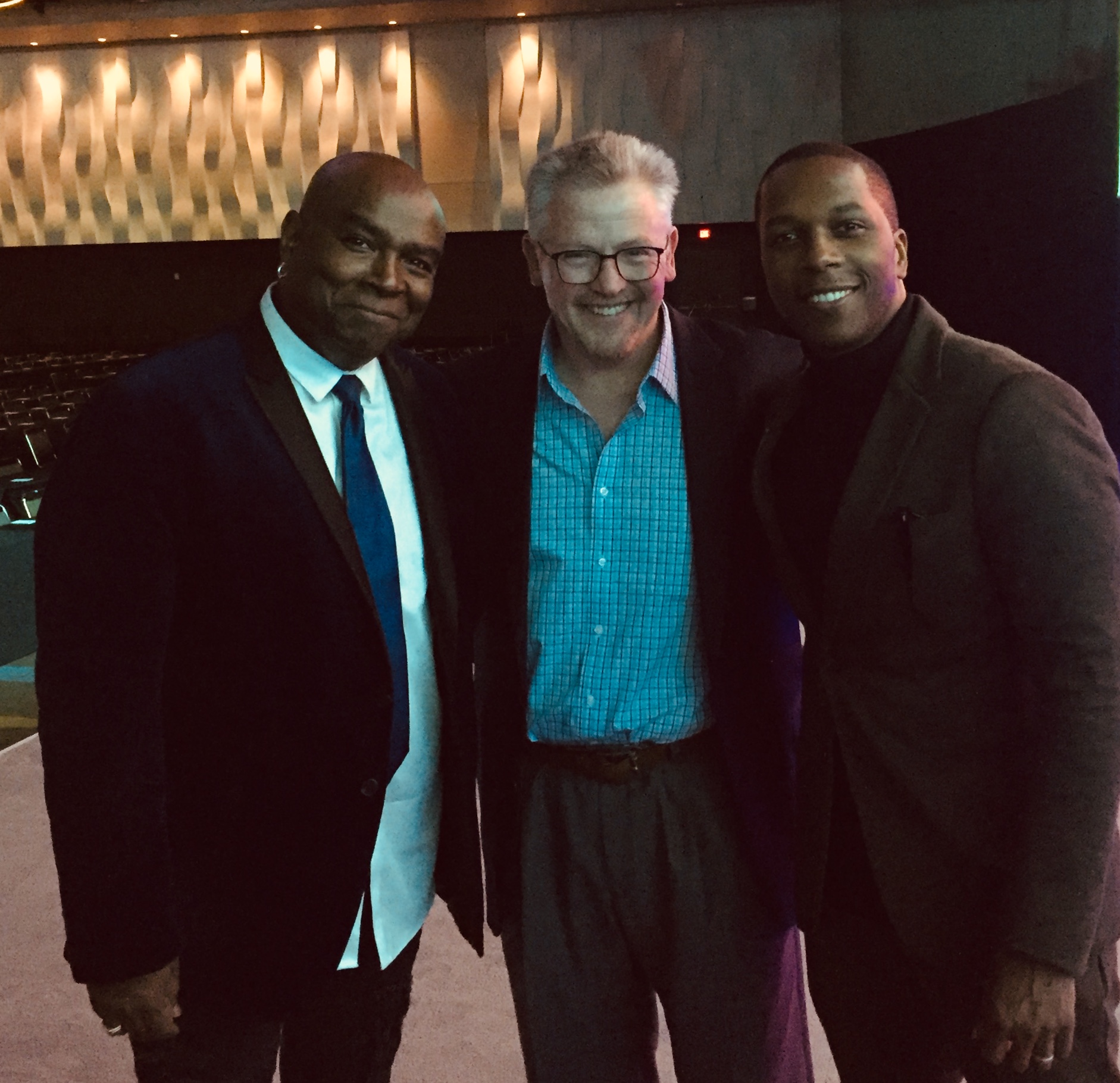 by Kevin Coupe

ORLANDO - Yesterday, at the Produce Marketing Association (PMA) Fresh Summit here, I had the opportunity to occupy the main stage with Leslie Odom, Jr., the Tony and Grammy award winning actor who originated the part of Aaron Burr in the groundbreaking original production of "Hamilton."

It was an unusual concept, for which I give PMA enormous credit - looking at the subject of innovation, disruption, diversity and storytelling through the prism of art and culture, as opposed to business, and finding metaphors and lessons in unexpected places. We were joined in the session by Stuart K. Robinson, an author and motivational speaker who also has served as a kind of life and career coach for Odom.

(That's us in the picture at left - Leslie Odom Jr. is on the right, Stuart K. Robinson is on the left.)

It ends up that there were tons of lessons to be learned…

One of the most interesting stories of the session was when Odom - who had experienced a good deal of career success to that point - talked about six years ago feeling unfulfilled and considering a career change out of acting. He talked to Robinson about it, who responded, "You can quit if you want to, but it would be nice if you actually tried first."

"What do you do when the phone doesn't ring (for an audition or job)?" Odom said Robinson asked him. "What are you doing for yourself to make or create or get yourself in there when the phone isn't working?" It was a career revelation for him, he said, to realize that he had to be more responsible for his own happiness and fulfillment. And, Odom said, he hasn't stopped working since.

(All I could think about when listening to this story was, where was Robinson when I needed him a long, long time ago?)

Odom also talked about the importance of collaboration in the development of "Hamilton," and how the team that put it together over the long haul to Broadway was the best team he'd ever worked with, with every person in the process responsible for the final product.

Robinson and Odom also talked about the importance of mentorship, and finding inspiration in unexpected places - the person you might talk to on an elevator, the child who just naturally has all the right priorities - and of keeping one's eyes and heart open to a plethora of experiences.

Interestingly, there were some thematic connections to an earlier session, entitled "Today's Disruptions, Tomorrow's Opportunities," that used a science-focused prism to explore the subject. Moderated by Greg Williams, editor of Wired and featuring Georgia Tech professor Dr. Jaydev Desai (an expert in medical robotics) and inventor Dr. Andrew Pelling (who runs an Ottawa incubator and technology lab), the revelation here was how important it is to put people of varying talents together and allow them to explore their passions, to ask questions, and be rigorous in looking for answers.

Pelling talked about he often challenges himself by fishing stuff out of the trash and figuring out how to turn it into some sort of medical device, and even once created an offshoot of his lab that only focused on projects that he's absolutely sure will fail.

This completely connects to "Hamilton," a show that was unprecedented in its approach to history and historical figures, making us seen them through different eyes because they were portrayed onstage as never before. "Hamilton" should've failed, if you think of it in the context of successful Broadway shows that are either based on Disney movies or are jukebox musicals. But it didn't … and in fact, it soared.

And, speaking of soaring … as we wrapped up our session, Odom treated us to two songs … an a cappella version of "Forever Young," from which he segued into "Dear Theodosia," from "Hamilton." He brought the house down … and it was one of the best sessions of which I've been a part. Indeed, it really was the room where it happened.